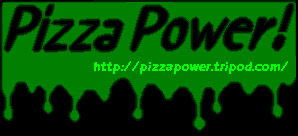 Profiles
Rocksteady & Bebop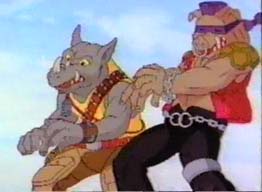 Weapon: Whatever guns or lasers Krang and Shredder give them
Rocksteady & Bebop. Always a team. Dumb. Two dolts. Mutated by the same ooze as the Turtles and Splinter. Never do anything right. Always in trouble. Do the dirty work. Shredder's minions.

&nbsp

"You know, if Rocksteady and Bebop had more than a single brain cell between 'em, they could be pretty dangerous."
-- Raphael
This site, designs, logos, and all content are Copyright 2001-2002 by TurtleFan00 unless noted otherwise. All rights reserved.
The Teenage Mutant Ninja Turtles © 2001 Mirage Studios unless otherwise noted. Teenage Mutant Ninja Turtles®, including Raphael®, Michaelangelo®, Leonardo®, Donatello®, Shredder®, Splinter®, and April O'Neil® are registered trademarks of Mirage Studios USA. Based on characters and comic books created by Peter A. Laird and Kevin B. Eastman.